About the product:
Electroplated cutting discs are widely used in cutting metal and non-metal materials, such as alumina ceramics, zirconia ceramics, black ceramics, ceramic tubes, refractory materials, brake linning, quartz glass, glass-ceramics, optical glass, high boron Silicon glass tubes, beads, gems, crystals, jade, magnetic cores, magnetic chips, iron oxide, rare earth, silicon carbide, silicon wafer, oilstone, etc.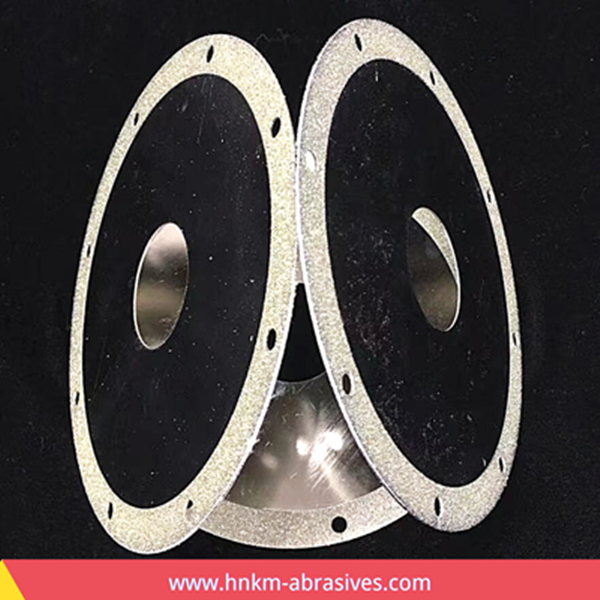 Specialties & Customed Production
Our diamond-plated wheels have many advantages. We can offer you electroplated diamond wheels with aggressive bond, lower costs, high performance, and longer cycle time. We offer you excellent customized service.
If have special applications, provide us your drawing and your requirement. If you are not sure with which grinding wheel to choose, or which grit to choose, just tell us your needs and your applications, or send us your workpiece, will design you the perfect grinding bits for you. We are glad to share our experience with you.
What you may concern:And tell us the product or material you want to work on or your applications, then we can provide you the professional suggestions.
1: Are you a factory?
Yes, we are the producer. Our main products are diamond tools, grinding wheels, cut-off discs, sanding belts, oil stones, mounted points, etc.
2, Can I get free samples?
Yes, within 20USD samples, we can provide for free, but the shipping cost should be covered by the customers.
3, How to confirm the quality?
We have the most experienced technicians and producers. You can send us the technical parameters of the product and we will produce according to your requirements. You can ask for a sample for free. You can have a pilot order then normal order.
4, What about quality control?
We are using the highest quality components & an efficient manufacturing process. We have the strictest QC process. We are proving a high level of service for customers and distributors. We are trying to nail down the quality complaint to zero. We will make you an enjoyable experience working with us.